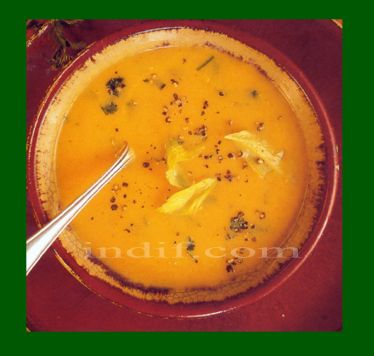 Ingredients: (Serves : 4)
400 gms. carrots (gajar)
1 onion (finely chopped)
1litre water
2 bay leaves (tejpatta)
2 tsp. fennel seeds
Salt & black pepper to taste
2tbsp. oil
2tbsp. Fresh cream (malai)
Coriander Leaves (finely chopped)
Preperation :
Wash & grate the carrots.
Heat the oil and add bay leaves & fennel seeds, fry for a minute.
Add onions and fry till brown.
Add the grated carrots and stir for few minutes, then add water & cook until done.
Allow the cooked carrots to cool to room temperature.
Blend the mixture in a blender into a fine puree.
Take out the bay leaves before blending.
Beat the cream and mix it to the puree, also add the salt & pepper powder and cook for 2-3 minutes.
Serve hot garnished with chopped coriander leaves.