Let the splendor of the diamond, pearl and ruby vanish like the magic shimmer of the rainbow. Only let this one teardrop, the Taj Mahal, glisten spotlessly bright on the cheek of time...
(Poet Rabindranath Tagore)
Taj aptly called a 'a dream in Marble' is situated on the right banks of the Yamuna river. It is one of the most beautiful masterpieces of architecture in the world. It is an extravagant marble monument of love, built by Shahjahan in 1653 as a memorial to his queen Mumtaz Mahal who died giving birth to their 14th child.
This most famous Mughal monument was constructed by Emperor Shah Jahan in memory of his wife Mumtaz Mahal, the 'lady of the Taj'. After the death of Mumtaz Mahal, Shah Jahan could not bear this great loss of his dear wife and his health began to decline. For complete two years, he abstained himself from all kinds of pleasures and ceremonies. Every Friday, Shah Jahan used to go to her grave on foot in white dress, to read 'Fatiha,' accompained by his courtiers and nobles.
Taj Mahal has been described as the most extravagant monument ever built for love. A total of 20,000 people worked on the building from 1631 to 1653. The Taj is a perfect fusion of Indian and persian architecture. The main architect was Ustad Isa Khan, who came from Shiraz in Iran, with his pupil Ahmed Paras. They both were of Persian origin but both were Indian at the same time as they were converted to Islam.
White marble and red sandstone, silver and gold, carnelian and jasper, moonstone and jade, lapiz lazuli and coral were fashioned by 20, 000 skilled workers to make the emperor's dream a reality. It took 22 years to complete - a poignant symbol of eternal love where Shahjahan too lies buried, reunited at last with his beloved Mumtaz.

Inside the Taj Mahal, the tomb of Mumtaz Mahal stands at the center of an octagonal hall, while the slightly larger tomb of Shah Jahan, who died in 1666, is off to one side. Both are elaborately carved and inlaid with semiprecious stones, illuminated by sunlight filtering through an elaborately carved marble screen that is also studded with jewels.
The Taj Mahal being the dedication and homage of Mumtaz Mahal, it has calligraphy all over the interior and exterior, which, among other patterns and holy inscriptions, also has calligraphy on the tomb that identifies and praises Mumtaz Mahal. Another interesting fact is that there are 99 names of Allah found on the sides of the actual tomb as calligraphic inscriptions. After all, Shah Jahan did envision Mumtaz's home in the paradise, and Taj Mahal was that imagination coming to life.
Different people have different views of the Taj but it would be enough to say that the Taj has a life of its own that leaps out of marble, provided you understand that it is a monument of love. As an architectural masterpiece, nothing could be added or subtracted from it.
Agra, city in northern India, in Uttar Pradesh State, capital of Agra District, on the Yamuna River. Agra is a railroad junction and a commercial and industrial center for the surrounding agricultural area. The city has an extensive trade in cotton, grain, tobacco, salt, and sugar. Factories are engaged in food processing and the production of cotton textiles, carpets, iron and steel, and leather goods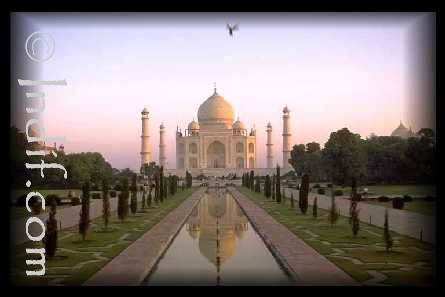 Interesting Facts about Taj Mahal
The name Taj Mahal means "crown of palaces".
Taj Gardens were designed by Ali Mardan Khan, who was a noble in the Moghul court.
According to one gruesome (and most likely sensational) story, Shah Jahan had his minions cut off the hands of the Taj Mahal's architect and his workers after the structure was completed, ensuring they would never build another of its kind.
At its center is the Taj Mahal itself, built of shimmering white marble that seems to change color depending on the sunlight or moonlight hitting its surface.
One of the Taj Mahal's most recognizable features is a large white dome that is often called an 'onion dome' due to its shape. It has a height of around 35 metres (115 feet) and is surrounded by 4 smaller domes.
Did you know that the Taj Mahal dose different colours at different times of the day? The white marble and the reflective tiles help the Taj change colours. In the early morning, it assumes a shy pinkish hue, which turns to a glowing white as the day rolls on, and turns a burnished golden at night in the moonlight. The Taj Mahal is a particular attraction when on full moon nights. The changing colours are said to be analogous to the moods of a woman – Mumtaz Mahal, to be specific.
The Taj Mahal is considered to be one of India's most admired works of art, as well as a famous landmark and a tourist attraction that draws millions of visitors every year.
Not a piece of architecture, as other buildings are, but the proud passions of an emperor's love wrought in living stones.
- English Poet, Sir Edwin Arnold

It appears like a perfect pearl on an azure ground. The effect is such I have never experienced from any work of art.
- British painter, Hodges

The Taj Mahal rises above the banks of the river like a solitary tear suspended on the cheek of time.
― Rabindranath Tagore

There are two kinds of people in the world. Those who have seen the Taj Mahal and love it and those who have not seen the Taj and love it. I would like people to watch my Taj Mahal and fall in love with it.
- Bill Clinton