Kids Zone
Features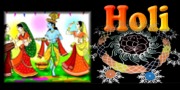 On the fifth day of the dark half of Phalgun the feast of Color is celebrated. The festival marks the end of the year according to the Indian calendar, and the spirit of festivity is alive in every Hindu household. It is celebrated throughout India in early spring with cheer and gaiety. Holi comes when the cold winter months give way to summer. It takes place over two days around late February or March........... Read More
---
Did You Know?
The Hermitage Museum is one of the largest and oldest musems in the world. It is located in St. Petersburg, Russia.
---
Shop Indif

---
| | |
| --- | --- |
| Month of March | Baby Names |
Birthstone - Aquamarine, Bloodstone & Jade
Astrological Signs -
Pisces (till 20th) & Aries (begins 21st)
Mar. Flower- Daffodil
Notable Events and Dates -

Mar 5th - Holi
Mar 8th - International women's day
Mar 17th

-

St. Patrick's Day


Mar 21st - Hindu New Year
Mar 21st - Navratra's Begin
Mar 27th - Durgaashtami
Mar 28th - Ram Navami

Expecting a new addition to your family. We have a huge collection of Indian Baby names. We have baby boy names and baby girl names. The baby boys names and girls names are accompanied by the meaning of names. New names are added frequently to our collection. Also a popular set of Twin Baby Names.
| | |
| --- | --- |
| Festival of the Month | Rhyme of the Week |
Holi

On the fifth day of the dark half of Phalgun the feast of Color is celebrated. The festival marks the end of the year according to the Indian calendar, and the spirit of festivity is alive in every Hindu household. It is celebrated throughout India in early spring with cheer and gaiety. Holi comes

...........

Read More

Contributed by : Neha Amar
Learning Time : Learn Hindi, Learn Punjabi, Learn Marathi
Singing Time : Hindi Rhymes, Marathi Rhymes, Hindi Lullabies
Activity Time : Coloring Sheets, Hindi Tongue Twisters
Knowledge Zone : General Knowledge, Interesting Facts, Hindi Proverbs, Hindi Synonyms, Festivals of India
Story Time : Hindi Short Stories, Panchatantra Stories, Shirdi Sai Baba Stories, Bed Time Stories
---
---