Shirdi Sai Baba Stories for Kids
"Gaihoon Peesne ki Katha"
The Story of Grinding Wheat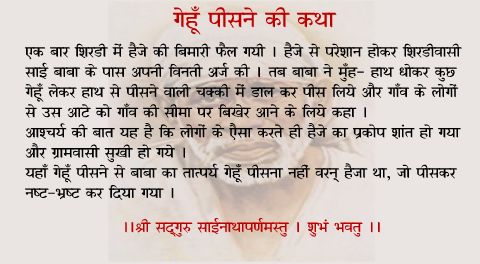 The Story of Grinding Wheat
One time, there was an epidemic of Cholera in Shirdi. Helpless Shirdi people approached Baba for relief. On this Baba after washing his hand and face took some wheat and started grinding in a hand mill. Then he asked the village people to take the flour and throw it on the village borders.
With grace of Baba, from that time onwards the cholera epidemic subsided and the people of the village were happy.
by grinding wheat here Baba actually meant that, it was not the wheat, that was ground but cholera itself was ground to pieces and pushed out of the village.
Bow to Shri Sai - Peace be to all
Got ! Hindi Short Stories to share. Contribute here...