Shirdi Sai Baba Stories for Kids
"Sai Baba aur Chand Bhai Ka Ghooda"
Sai Baba and Chand Bhai's Horse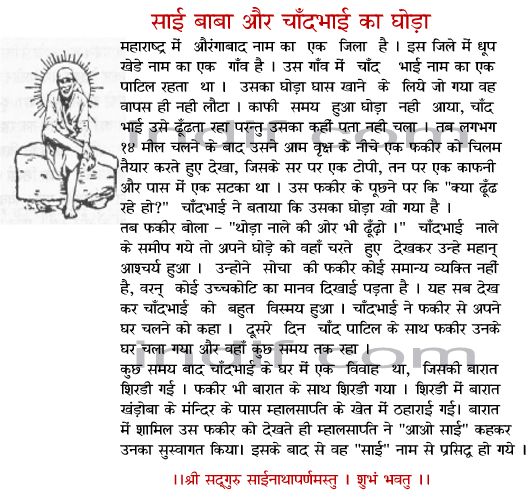 Sai Baba and Chand Bhai's Horse
In Maharashtra, there is a district named Aurangabad, in which there is a village named Dhoopkhede. Chandbhai was the patel of that village. Once he lost his horse. Chandbhai searched and searched, but to no avail. After traveling fourteen Koss, he came, on the way, to a mango tree under the foot of which sat a Fakir. He had a cap on His head, wore Kafni (long robe) and had a "Satka" (short stick) under his arm-pit. The Fakir asked him about the saddle. Chand Patil replied that it was of his horse which was lost.
The queer fellow or Fakir asked him to make a search in the Nala close by. He went and the wonder of wonders! he found out the mare. He thought that this Fakir was not an ordinary man, but an Avalia (a great saint). He returned to the Fakir with the mare. He requested the Fakir to come to his home and accept his hospitality. Next day He went to the Patil's house and stayed there for some time.
After some time, there was a marriage ceremony in Chand Bhai's house, the marriage procession went to Shirdi. The Fakir also accompanied the marriage-party. When the marriage - party came to Shirdi, it alighted at the foot of a Banyan tree in Bhagata Mhalsapati's field near Khandoba's temple. Bhagat Mhalsapati saw the young Fakir getting down and accosted Him "YA SAI" (Welcome Sai). Others also addressed Him as Sai and thence-forth he became known as Sai Baba.
.Bow to Shri Sai - Peace be to all
Got ! Hindi Short Stories to share. Contribute here...