Hindi Short Stories
"Pyasa Kauva"
Thirsty Crow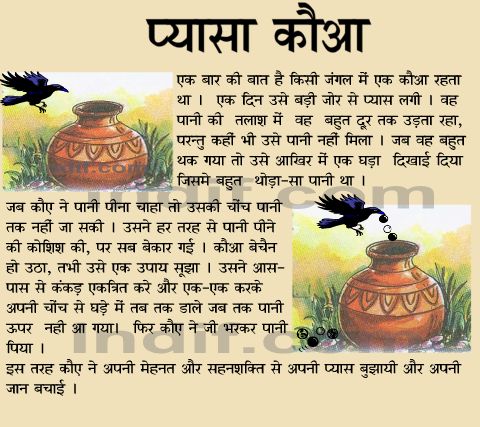 Ek baar ki baat hai kissi jangal mein ek kauva rahta tha. Ek din usse badi jor se pyas lagi. Weh pani ki talash mein bahaut door tak udta raha, parantu kahin bhi usse pani nahi mila. Jab weh bahaut thak gaya to usse akhir mein ek ghada dikhai diya jismay bahaut thoda-sa pani tha.
Jab kauvay ne pani pina chaha tu usski chonch pani tak nahi ja saki. Ussne har tarah se pani pine ki koshish ki, par sab bekar gayi. Kauva bechain ho uttha, tabhi usse ek upaiy soojha. Ussne aas-paas se kankad ekatrit kare aur ek-ek karke apni chonch se ghade mein tab tak dale jab tak pani uppar nahin aagaya. Phir kauvay ne ji bhar kar pani piya.
Es tarah kauvay ne apni mehnat aur sehanshakti se apni pyas bhujhayi aur apni jaan bachayi.
Got ! Hindi Short Stories to share. Contribute here...