Hindi Short Stories
"Chalak Bandar"
The Clever Monkey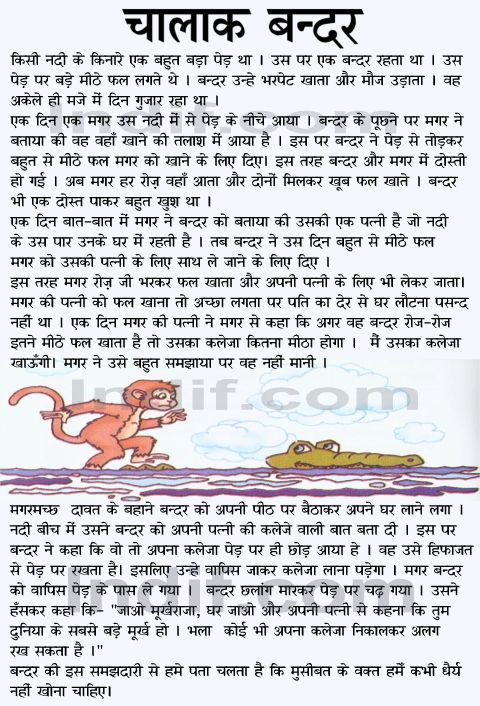 Kissi nadi ke kinare ek bahaut bada paed tha. Uss paid par ek bandar rahta tha. Uss paed par bade meethe phal lagte the. Bandar unhe bharpait khatta aur mauj udatta. Weh akele hi maje mein din gujjar raha tha.
Ek din ek magar nadi mein se uss paed ke neeche aaya. Bandar ke poochne par ussne bataya ki woh wahan khane ki talash mein aaya hai. Es par bandar ne paed se bahaut se meethe phal tood kar magar ko khane ke liye diye. Es tarah bandar aur magar ki dosti ho gayi. Aab magar har roj wahan atta aur dono mil kar khoob phal khatte. Bandar bhi ek dost pa kar khush tha.
Ek din baat-baat mein magar ne bandar ko bataya ki uski ek patni hai jo nadi ke uss par unke ghar mein rhati hai. Tab bandar ne uss bahaut se meethe phal magar ko uski patni ke liye le jane ke liye diye.
Es tarah magar roj jee bhar kar phal khatta aur apni patni ke liye bhi le kar jatta. Magar ki patni ko phal khana accha lagta par pati ka dair se ghar lautana pasand nahi tha. Ek din magar ki patni ne magar se kaha ki agar bandar roj-roj etne meethe phal khatta hai to uska kaleja kitna meetha hoga. Mai uska kaleja khaoongi. Magar ne usse bahaut samjhaya par weh na maani.
Magarmaach dawat ke bahane bandar ko apni peeth par baitha kar apne ghar laane laga. Nadi ke beech mein ussne bandar ko apni patni ki kalejay wali baat batta di. Es par bandar ne kaha ki woh apna kaleja paed par chhod aaya hai.Weh usse hifajat ke liye paed par rakhta hai. Esliye unhe wapis jakar kaleja lanna padega. Magar bandar ko wapis paid ke pass le gaya. Bandar chalang markar paed par chad gaya. Ussne hans kar kaha - "Jao Murakh raja, jao ghar jao aur apni patni se kehna ki tum duniya ke sab se bade murkh ho. Bhala koi bhi apna kaleja nikal kar alag rakh sakta hai."
Bandar ki samajhdari se humme patta chaltta hai ki musibat ke waqt humme bahi dhairya nahin khona chaiye.
Got ! Hindi Short Stories to share. Contribute here...