Hindi Short Stories
"Chaalak Khargosh"
The Clever Rabbit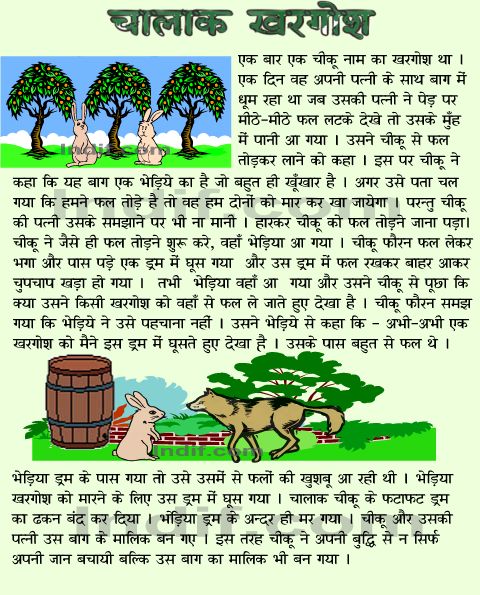 Ek baar ek Chikoo naam ka khargosh tha. Ek din weh apni patni ke saath baag mein ghoom raha tha jab uski patni ne paed par meethe-meethe phal latke dekhe to uske muh mein pani aagaya. Ussne Chikoo se phal tod kar laane ko kha. Ess par Chikoo ne usse kha ki yeh baag ek bhaideye (wolf) ka hai jo bahaut khoonkhar hai. Agar usko paat chal gaya ki humne phal tode hai to woh hum dono ko maar kar kha jayega. Parantu Chikoo ki patni uske samjhane par bhi na manni. Haarkar Chikoo ko phal todne jana pada. Chikoo ne jaise he phal todne shoroo karey, wahan bhaideya aagaya. Chikoo phauran phal lekar bhaga aur paas pade ek drum mein ghoos gaya aur uss drum mein phal rakhkar bahar aakar chupchap khada ho gaya. Tabhi wahan bhaideya aagaya aur ussne chikoo se poocha ki kya ussne kissi khargosh ko wahan se phal le jatte huye dekha hai. Chikoo phauran samajh gaya ki bhaideye ne ussne phechana nahin. Ussne bhaideye se kha ki abhi-abhi ek khargosh ko maine ess drum mein ghooste huye dekha hai. Usske pass bahaut se phal thaye.
Bhaideya drum ke pass gaya to usse ussme se phalon ki khushboo aa rahi thee. Bhaideya khargosh ko maarne ke liye uss drum mein ghoos gaya. Chaalak Chikoo ne phataphat drum ka dhakan band kar diya. Bhaideya drum ke andar he maar gaya. Chikoo aur uski patni uss baag ke maalik ban gaye. Ess tarah Chikoo ne apni boodhi se na sirf apni jaan bachayai balki uss baag ka malik bhi ban gaya.
Got ! Hindi Short Stories to share. Contribute here...