Hindi Short Stories
"Maakhi Ka Lalach"
The Greedy Flies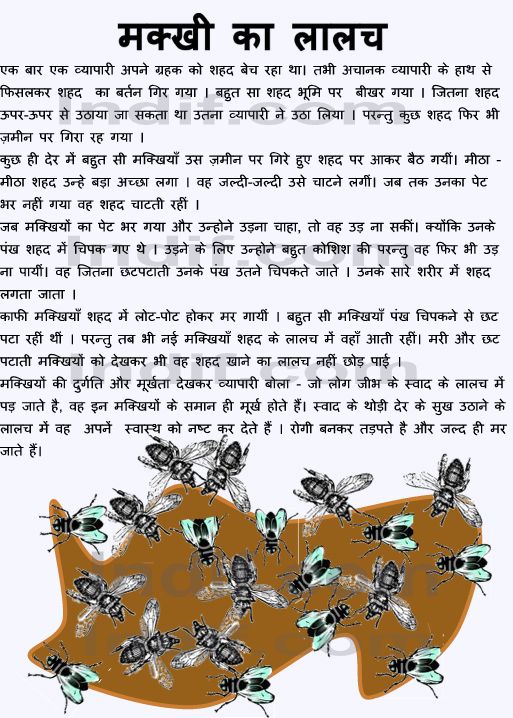 Ek baar ek vyaapari apne grahak ko shahaid baich raha tha. Tabhi achank
vyaapari kay hath say phesalkar shahaid ka bartan gir gaya. Bahaut sa
Shahaid bhoomi par beekhar gaya. Jitna shahaid oopar-oopar say oothaya
ja sakta tha utna vyaapari nay oothah liya. Parantu kuch shahaid phir bhi
zameen par gira rah gaya.

Kuch hee dair mein bahaut see maakhiyan uss zameen par giray huay shahaid
par aakar baith gayi. Meetha-meetha shahaid oonhay bada aacha laga. Wah
jaldi-jaldi usse chatne lagi. Jab tak unka pait bhar nahi gaya wah shahaid chattee
rahin.

Jab maakhiyon ka pait bhar gaya aur oonhone udana chha, to wah udd na sakey.
Kyonki unke pankh shahaid mein chipak gaey thay. Wah jitna chatpatatti oonkay
pankh utne chipaktay jatay. Oonkay saray shreer mein shahaid lagta jatta.
Kaffi maakiyan shahaid mein lottpott ho kar maar gayi. Bahaut see maakhiyaan
pankh chipaknay say Chattpatati rahi. Parantu tab bhi nayi maakhiyan shahaid
kay lalach mein wahan aatti rahin. Mari aur chatpatati hui maakyiyon ko dekh kar
bhi wah shahaid khanne ka lalach nahi chodd payi.

Maakiyon ki doorgatti aur moorkhta dekh kar vyaapari bola - jo log jeebh kay
swad nein padd jatte hai, wah un maakiyon kay samaan he moorakh hotay hain.
Swad kay thoddi dair kay sukh uthane kay lalach mein wah apne swasth ko nasht
kar daitay hain. Rogi bankar tadpte hain aur jald he mar jatte hain.
Got ! Hindi Short Stories to share. Contribute here...