Goddess Annapoorna, or Annapurna Devi, is the Goddess of food. In Sanskrit Language the word "Anna" means food and grains and "Purna" means full or complete. She is an incarnation of Goddess Parvati; the wife of Shiva. Annapurna Mata has two hands. She holds a bowl in one hand and a spoon in another. She sits on a lotus throne. She was often seen giving food to Lord Shiva. For Hindus she is a protecting deity. She blessed her devotees with abundance of food and other worldly possessions of this word. It is believed that by worshipping this goddess one will never be out of food anytime in life.
To Print Picture -- Right Click -- Print Picture...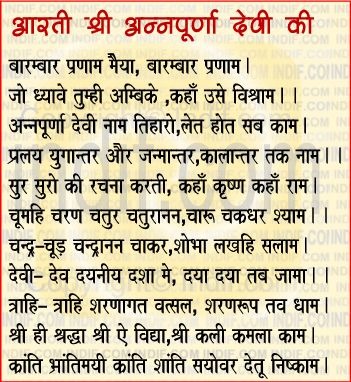 Annapoorna Devi Aarti - English text
Barambar Pranam Maiya Bamambar Pranam....
Jo nahin dhayavai tumehen Abike, kahan usse vishram.
Annapoorna devi naam tiharo, lete hot dab kaam.
Pralay yugantar aur janmantar,kalantar tak naam.
Sur suron ki rachna karti, kahan krishna kahan Ram.
Chumahi charan chatur chaturanan, Charu chakradhar Shyam.
Chandra choor chandranan chakar, Shobha lakhhi lalaam.
Devi Dev dayniya dasha mein, Daya daya tav jama.
Trahi-trahi sharanagat vatsal, sharan roop tav dham.
Shree hreem shradha shree ean vidhiya, shree klim kamal kaam.
Kantibhrantimai kanti shanti sayovar detu nishkaam.