Bhraspativar or Brihaspatiwar or Thursday, is dedicated to Vishnu and Bhraspati, the Guru of Devas. Thurdsay is also popularly known as Vrihaspativar or Guruvar. According to the hindu astrology Bhraspati is the name for the planet Jupiter, which is one of the Navagraha (the nine planets) . He is also known as Guru, Cura and Devaguru. Bṛhaspati is considered to be the most beneficial sign of any of the planets. It is believed that offering prayers on this day promotes greater learning and prosperity. Yellow is the color of the day.
To Print Picture -- Right Click -- Print Picture...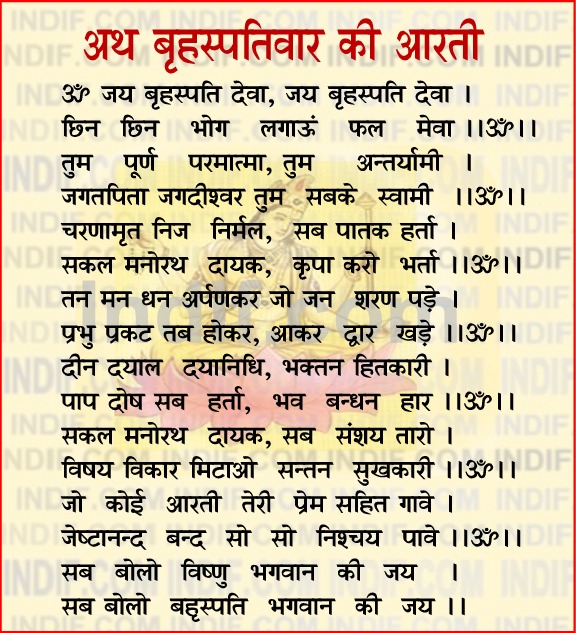 Bhraspativar (Thurday) Aarti - English text
Om Jai Bhraspati Deva, Jai Bhraspati Deva.
Chin chin Bhoog Lagaoon Phal Mewa II OM II

Tum Puran Parmatama, tum Antaryami.
Jagatpita Jagdeeshvar tum sabke Swami II OM I

Charnamrit nij nirmal, sab patak harta.
Sakal Manorath Dayak, kripa karo Bharta II OM II

Tan Mann Arpankar jo jann sharan pade.
Prabhu prakat tab hokar, Aakar Dwar Khade II OM II

Deen Dayal DayaNiddhi, Bhaktan Hitkari.
Paap Dosh sab Harta, Bhav Bandhan Haar II OM II

Sakal Manorath Dayak, sab Sanshay taro.
Vishay Vikar Mitao Santan Sukhkari II OM II

Jo Koi Aarti teri Prem Sahit Gave.
Jaeshtanand Band so so Nischay Pave II OM II

Sab Bolo Vishnu Bhagwan ki Jai.
Sab Bolo Bhraspati Bhagwan ki Jai .