Budhwar or Wednesday is the day to worship lord Krishna, also known as Yugal Kishore. According to the hindu astrology Budhwar is the day of Lord Budha (Budhan) or Planet Mercury one of the Navagrahas (nine planets). It is believed that offering prayers on this day is good for intellectual development of a person.
To Print Picture -- Right Click -- Print Picture...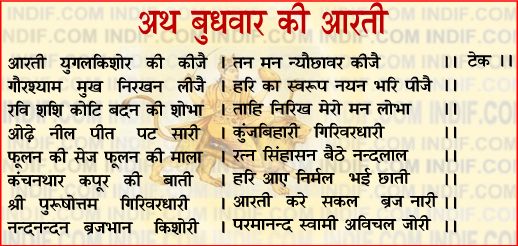 Budhwar (Wednesday) Aarti - English text
Aarti YugalKishore ki kijay.
Tann Mann Nyuchavar kijay.
GaurShyam mukh nirkhan leejay.
Hari ka swaroop nayan bhari peejay.
Ravi Shashi koti badan ki shobha.
Tahi nirakh mero mann lobha.
Odde neel peet pat sari.
Kunj Bihari girivardhari.
Phulan ki sej phulan ki mala.
Ratan sinhasan baithe Nandlala.
Kanchan thar kapur ki bati.
Hari aye nirmal bahi chhati.
Shree Purshottam Girivardhari.
Aarti karat sakal Brajanari.
Nand-nandan Brajbhan kishori.
Parmanand Swami avichal jori.