To Print Picture -- Right Click -- Print Picture...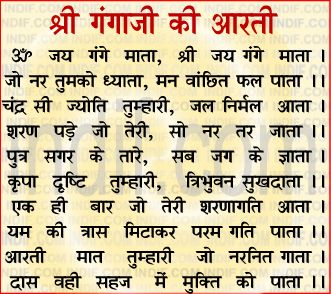 Ganga Aarti - English text
Om Jai Gange Mata, Shri Jai Gange Mata
Jo Nar Tumko Dhyata, Man Vanchit Phal Pata
Om Jai Gange Mata

Chandra Si Jot Tumhari, Jal Nirmal Aata
Sharan Pade Jo Teri, So Nar Tar Jata
Om Jai Gange Mata

Putra Sagar Ke Taare, Sab Jag Kay Gyata
Kripa Drishti Tumhari, Tribhuvan Sukh Data
Om Jai Gange Mata

Ek he Baar Jo Teri Sharanagati Aata
Yam Ki Traas Mitakar, Paramgati Pata
Om Jai Gange Mata

Aarti Maat Tumhari, Jo nar Nit Gata
Dass Wahi Sahaj Mein, Mukti Ko Pata
Om Jai Gange Mata
Hindus believe that bathing in the sacred rivers will result in the remission of sin and will circumvent rebirth, thus guaranteeing a berth in the heavens.
Ganga Dussehra, held over the first 10 days of the month of Jyeshtha (in June), celebrates Gangavataran - the descent of the Ganga to earth.
Some of the most important Hindu festivals and religious congregations are celebrated on the banks of the river Ganga such as the Kumbh Mela and the Chhat Puja.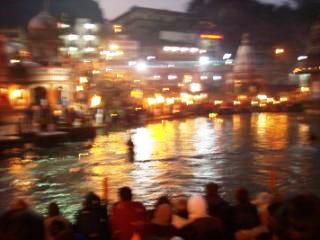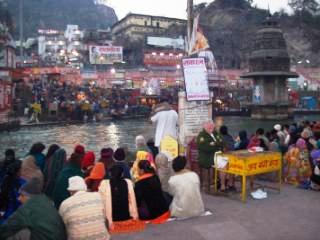 The Ganga Aarti at Har-ki-Pauri in Haridwar is one of the famous events starts every evening after sunset, with large crowds gathered around both the banks of a Ganges river.