Ravivar, or Sunday, is the day to worship Lord Surya or Sun. Lord Surya has very importance in Hinduism. Sun is the central point of Universe.It is believed that worshiping Surya Dev on a Sunday not only saves one from skin diseases but also provides energy to one's body and life as well.
To Print Picture -- Right Click -- Print Picture...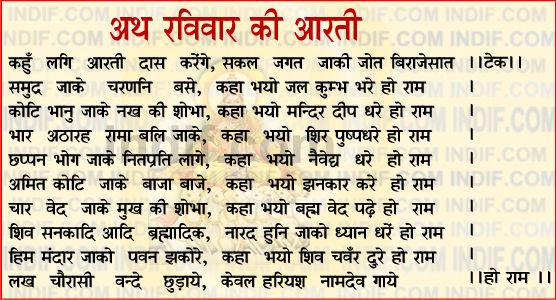 Ravivar (Sunday) Aarti - English text
Sakal Jagat Jaaki Joti Viraaje.
Saat Samundra Jaake Charni Basey, Kaha Bhayo Jal Kumbh Bhare. Ho Ram..

Koti Bhanu Jaake Nakh Ki Shobha, Kaha Bhayo Mandir Deep Dhare. Ho Ram..

Bhaar Athaareh Romavali Jaake,
Kaha Bhayo Shir Pushp Dhare. Ho Ram..

Chappan Bhog Jake Pratidin Laage,
Kaha Bhayo Nevadya Dhare Ho Ram. Amit Koti Jake Baaja Baaje, Kaha Bhayo Jhankaar Kare. Ho Ram..

Chaar Ved Jake Mukh Ki Shobha,
Kaha Bhayo Brahmdev Padhe. Ho Ram..

Shiv Sankadik Aadhi Bramhadik,
Naarad Muni Jake Dhyan Dhare. Ho Ram..

Him Mandaar Jako Pawan Jhakore, Kaha Bhayo Shir Chanvar Dhure Ho Ram.

Lakh Chorasi Fandh Chuddaaye,
Keval Hariyash Naamdev Gaaye.Ho Ram.