Shanivar or Shaniwar (Saturday) is dedicated to Shani Devta(Saturn). According to the hindu astrology Shani is the name for the planet Saturn, which is one of the Navagraha (the nine planets) . On this day the devotees worship Saturn idol made of iron. It is believed that offering prayers on Saturday keeps away all the hurdles and misfortunes. Black is the color of the day.
Shanivar (Saturday) Aarti - 1
To Print Picture -- Right Click -- Print Picture...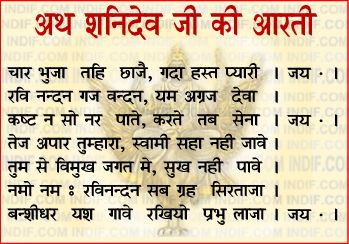 Shanivar (Saturday) Aarti - English text
Char Bhuja Tahi Chaje, Gada Hast Pyari I Jai. I
Ravi Nandan Gaj Vandan, Yam Agraj Deva .
Kasht na so Nar patte, karte tab Sena I Jai. I
Tej Apar tumhara, Swami Sha nahi Jave .
Tum se Vimukh jagat mein, Sukh nahi Pave.
Namo Namah Ravinandan sab grah Sirtaja.
Banshidhar yash gave rakhiyo prabhu laja I Jai. I

Shanivar (Saturday) Aarti- 2
To Print Picture -- Right Click -- Print Picture...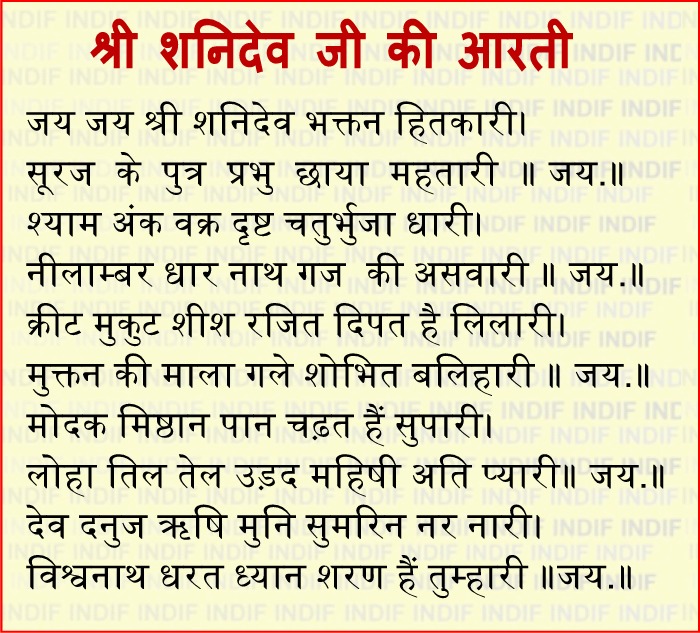 Shanivar (Saturday) Aarti - English text
Jai jai shri shanidev bhaktan hitakaari
Sooraj ke putra prabhu chaaya mahataari. Jai..

Shyaam ank vakra drasht chaturbhujaa dhaari
Nilaambar dhaar naath gaj ki sawari. Jai..

Kirit mukut shish sahaj deepat hai lilaari
Muktan ki maal gale shobhit balihaari. Jai..

Modak mishtaan paan chadhat hai supaari
Lohaa til tel udad mahishi ati pyaari. Jai..

Dev danuj rishi muni surat nar naari
Vishwanaath dharat dhyaan sharan hai tumhaari. Jai..
About Shani Dev
Shani is is a son of Surya Devta. He is generally depicted in dark complexion, clothed in black. Shri Shani Mahatmya describes the story of Shani's life. Shani Maharaj is a great devotee of Lord Shiva and Lord Vishnu. In Sanskrit Shani is called Sanischara, which means, "slow mover". Shani spends 2.5 years (Dhaiya) in each rashi. When we add the 2.5 years in previous and 2.5 years in next rashi together, the time period of 7.5 years is called Saadesaati, and the person faces challenging time during the period.