Lord Vishwakarma is believed to be the architect and the master of all machinery equipments of gods. Son of Brahma, he is the divine draftsman of the whole universe, and the official builder of all the gods' palaces.
To Print Picture -- Right Click -- Print Picture...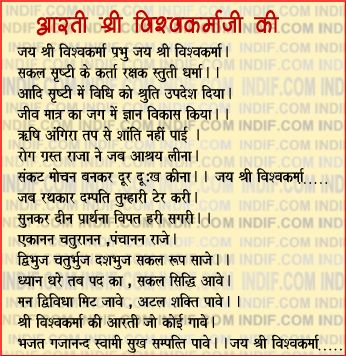 Lord Vishwakarma Aarti - English text
Jai shri vishwakarma prabhu, jai shri vishwakarma
Sakal srishti ke karta, rakshak stuti dharma.

Aadi srishti me vidhi ko shruti updesh diya
Jeev matra ka jag me, gyan vikas kiya.

Rishi angira tap se, shanti nahin pai
Rog grast raja ne jab aashraya leena
Sankat mochan bankar door duhkha keena
Jai shri vishwakarma...
Jab rathkaar dampati, tumhari ter kari
Sunkar deen prarthna, vipat hari sagari

Ekanan chaturanan, panchanan raje
Tribhuj chaturbhuj dashbhuj, sakal roop saje

Dhyan dhare tab pad ka, sakal siddhi aave
Mann dvividha mit jave, atal shakti pave

Shri vishwakarma ki aarti jo koi gave
Bhajat gajanand swami, sukh sampati pave
Jai shri vishwakarma.